UberCon XIV - New Jersey : Games & Events : Miniatures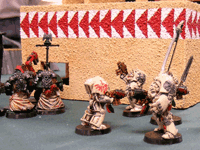 The UberCon Miniatures area includes several gaming tables and features games such as Warhammer 40,000, Classic Battletech, and several WizKids systems. UberCon runs many different types of miniatures - so come ready to play your favorite lead, plastic or cardboard system!

Discuss Miniatures in the UberCon Forum

Miniatures Games scheduled at UberCon include:
(View the miniatures schedule for ALL games.)
---

9 Kingdoms


9 Kingdoms is a miniatures game that combines skirmish combat with fantasy adventure. Each player creates squads of individualized figures. In addition to having to beat your opponent's squad into the dust, you can find magical items, charms, uncover pits, traps, teleports, and a whole host of other encounters
more...

---

Blood Bowl


Blood Bowl is a game of fantasy football Warhammer style, where Orcs, Elves and even Humans use skill and sharp implements to win games. Become a Blood Bowl Coach and lead your team to victory!
more...

---

HeroClix by Wizkids


Imagine a world of uncharted possibilities. One where the laws of time are flexible, where past, present, and future collide, creating timestreams similar but strangely different from the ones you are familiar with. This is Heroclix, where anything can happen. A place where you create the reality-a world where Superheroes and Super Villians are no longer enemies, but instead friends and allies.

Welcome to a world of amazing potential-one that is only limited by the boundaries of your own imagination.
more...

---

Malifaux


Set in a gothic horror/steampunk version of earth, Malifaux presents a world that combines magic, monsters, and steam-powered machines with the lawlessness of the Wild West. The game is a 32mm scale tabletop miniatures skirmish game. Unlike other tabletop games, Malifaux is card-driven rather than dice-based. It is designed to play with small battles (using two to four miniatures on a side) as well as larger engagements.
more...

---

Monsterpocalypse


This is Monsterpocalypse, a fast-moving, action-packed strategy game played with high-quality collectible miniatures portraying the most fearsome giant monsters on Earth! Each battle takes place in a city that you and your opponent construct by placing buildings on a city map. Players choose their forces from their respective collections of figures and then battle one another with giant monsters and supporting units such as tanks, flying vehicles, and all manner of creatures. Charge your monster into the city to fight for supremacy, and be the last monster standing!
more...

---

Uncharted Seas


The Uncharted Seas is a fast paced, action packed game of naval tactical combat set in a world of high fantasy. Using superb resin and white metal miniatures, and controlled by fast and easy to learn rules, the game allows you to wage war with fantastical squadrons of mighty warships. Choose from one of several races, including the Iron Dwarfs with their steam powered ironclads, Orc Raiders with their grotesque machines of war, the ever powerful Dragon Lords, an ancient race of magical seafarers, Imperial Humans hell bent on grabbing as much land as they can and the Thaniras Elves with their sleek ships of war.
more...
---