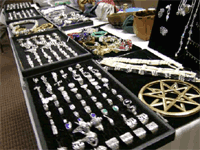 We are currently booking tables for UberCon XIV (To Be Announced).

You can still participate in UberCon XIV! UberCon provides excellent exposure for your company and/or product. In addition to exhibiting in our Dealer Room, you can participate in several other ways:

The UberCon Dealer Room includes a wide range of vendors, including Game and Comic retailers, game manufacturers, costumers, fantasy weapon dealers, chainmail makers, and much more! We would like to see several other types of products for sale, such as computer hardware, crystal, glass products, even more comics, art, tshirts, etc.

Contact Us if you are interested in participating in UberCon XIV.