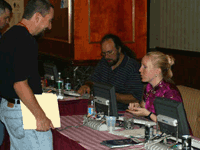 Registration Desk @ Ubercon

So, you're interested in attending UberCon? Excellent! Prior to the con, our goal is to provide you with a wealth of information to help you plan your UberCon experience.

All attendees receive with admission a goodie bag containing the UberCon Souvenir Program and lots of free stuff! Pick it up when you pick up your badge at registration.

Admission:
We offer a very flexible pricing structure for UberCon XIV. Purchase single day tickets or a weekend pass, valid Friday through Sunday at the Registration desk near the main entrance of the TBD.

Prices at the door:

Friday 4pm-2am $30
Saturday 8am-2am $45
Sunday 8am-4pm $30
Weekend Discount! $60


Early Bird discounts apply automatically!
There are group discounts for groups of 6 or more!

There are no additional costs for LAN or Console play, though some LARP and CCG events may have a small fee for materials (any fees above basic UberCon admission will be clearly stated in the online schedule).

Why preregister? You can sign up for Games & Events within minutes of purchasing your badge(s) for UberCon online. Plus, preregistration saves you time at check-in at UberCon.

UberCon Online:

Online Schedule (not yet available for this con): All games, tournaments, and other events will be listed in our easy-to-use online schedule. It's fully searchable, so if you're looking for all "Star Wars" events on Saturday evening, they're easy to find.
Online Registration (Closed for Convention Preparation!) : Our e-commerce system allows you to securely register to attend UberCon XIV using credit card, personal check, or paypal. Once you have registered, we email you a unique UberCon ID#. This number can be used to preregister for games/events through MyUberCon.